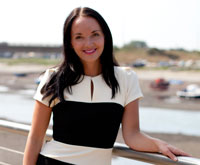 I am Lucy Dawe, Managing Director of Property Fusion and we are an independent block management company based in Shoreham and we manage blocks across the UK.
Property Fusion is the sister company of Lawton & Dawe Properties which is a residential lettings company. I launched these companies when I relocated here from Winchester 9 years ago and have worked in the property industry for the last 18 years. I have personally worked for independent agencies, corporate agencies and a housing association, so have seen this industry from all angles and struggled to agree with most of the business models managing agents seem to adopt so I decided to launch my own.
The reason I am telling you all of this is because for you to get to know Property Fusion I believe you need to understand where we started from so you can understand why when I say we are different to all other managing agents you stand a chance of believing me.
We are all about making sure the blocks we manage are well maintained. Our leaseholders feel that they have a personable company that they can approach and that they are kept in the loop with all planned maintenance. Nothing ground breaking; we just do what we say we are going to do. I know you have probably been told that before so we have some of our clients who are more than happy to act as a reference for us, if you would like to speak to one or more of them just ask.
As the Managing Director, I am incredibly lucky to have the team that I do. They are a fantastic group of individuals that share the same ethics and passion that I do for this business which is very rare to find and I value it immensely.
Block Management is all about being organised, knowledgeable and quick to act, you know that and we know that. We are not re-inventing the wheel here but we are doing it better than a lot of our competitors. Bold statement I know, and hopefully you have got a clearer view of my business so you can see why I feel confident to say it.
We would love the opportunity to be your managing agent, at the end of the day myself and my team are passionate about property and people, and having been around a long time in this industry know that this teamed with experience are traits that cannot be manufactured or brought.
If you would like further information you can contact me on 01273 917790 or by email to This email address is being protected from spambots. You need JavaScript enabled to view it..